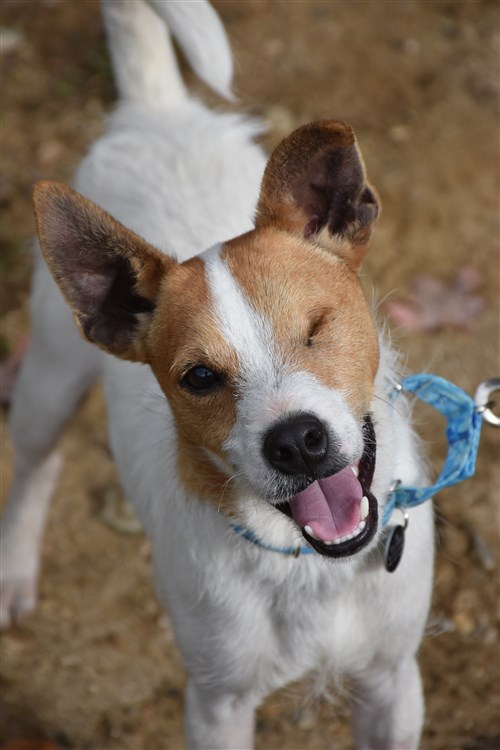 Wink is a 3-year-old male, brown and white rough coat Parsons Terrier, weighing 14 pounds. This lovely little Jack Russell came to us from the New Jersey hoarding situation known as the 188s. Wink is the last of this group from our rescue available for adoption, as he was in foster and now has come back to MA.
When he was taken from this puppy mill he had a ruptured cornea so his left eye was removed before we took him in.  In no way is this an issue as he has adjusted well to using his right eye, but of course one must be aware that he cannot see from the left and one must use common sense when walking him or handling him in the house.
He is a very affable little man, very gentle and kind, but most comical and a Jack Russell through and through. He is one of the most mischievous of the bunch. Wink is slowly learning to walk on a leash, it is taking time and he is slowly getting the hang of it. Wink is not fully housetrained, but like with all the other 188ers he too will learn with lots of patience and guidance from his human.
He will absolutely have to go with a canine companion who can show him the way and provide him with lots of canine playtime. Wink has lots of energy, as any young jack would, but still has no clue as to what toys or balls are. He definitely has prey drive, and that becomes evident on his walks.
A fenced yard for this Jack is necessary, as he needs to build confidence with training and it will be easier if he is an area where he is safe and secure. There are still many things that scare him, as they have never known anything outside of living in a crate since birth. Something as simple as a leaf dropping, a car driving by, or someone raising his or her voice can seem frightening.
A most delightful little dog who deserves to know that life exists outside of a crate.  Apply to Adopt Wink