Vicka is a three-year-old female broken coat, long legged brown and white Jack Russell who weighs about 22 pounds. Vicka came in with her brother Jack who was a year older. Jack already found his forever home with a previous adopter who winters in Florida.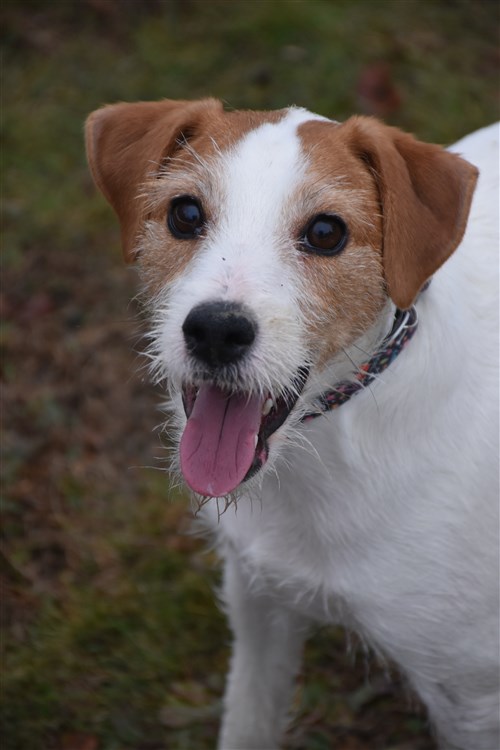 Both Vicka and her brother came to us when their owners, who had very long working hours, found themselves moving into an apartment with little time for their dogs. They decided it was best for the pair to find another home where they could live their lives with a family who could offer them a lot of exercise and activity since both dogs are extremely high energy JRTs.
This young dog goes for a 5-mile walk every morning beautifully striding next to you or making you pick up the pace. After her long walk she still manages to play ball for a long time, repeatedly running back and forth until your arm is exhausted from throwing her prize. She seems to enjoy the water, wandering in the stream even in the dead of winter. Quite aloof with people, this jack's life revolves around the ball.
She gets along with other dogs, but is a typical bossy female and does prize the things that belong to her. Not playful with other dogs, she will chase a dog with a ball and play catch to steal it.  Vicka is extremely well housetrained, has nice manners but will not listen to her name when she is absorbed in something much more interesting such as hunting or ball playing. She is crate trained but would prefer not to be confined and rides beautifully in the car.
Everyone at the vet praised her sweetness, if not laughing about her high-energy. She is a little rough around the edges but is an enormous amount of fun and will keep anyone who adopts her fit. Agility might be something that she is very good at, or nose work considering she is pretty high prey drive. A hard fence is a must.
Delightful young girl who wants to keep her new person very busy! Apply to Adopt Vicka