Venus is a six-year-old white and tan smooth coat female Jack Russell, weighing approximately 12 pounds, who has been in rescue since she was a puppy. Demonstrably shy and submissive, Venus does get along with all dogs and loves her humans as long as they introduce themselves slowly.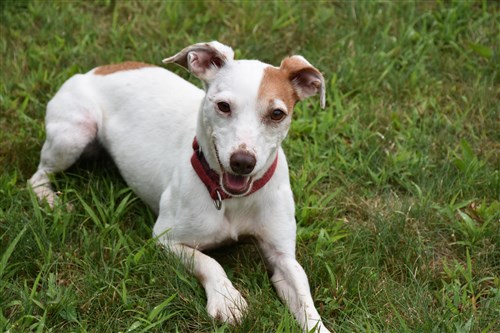 Strange things sometimes frighten her, and she takes a cautious approach on everything new. Her eyes are dark deep beautiful pools of longing and affection and she loves to be caressed and hugs back. Venus walks absolutely great on a leash, she has a wonderful stride and even though she starts off with her tail tucked it doesn't take long for that to appear and enjoys the fact that there's walking to be done. She's very well crate trained, rides beautifully in the car, and loves to run around and play with her human.
A very gentle soul who needs to gain confidence, she needs to know that she can trust her person to take her through the beginning stages of learning to be a jack. The sweetest little girl who will certainly be adored by anyone who comes to meet her.