A golden pair!!!  Typhoon is a 12-year-old male tricolor rough coat, weighing in at 14 pounds and along with his female mate Roxxy, a delicate tricolor 14-year-old female rough coat weighing in at 11 pounds, is looking for a forever home. The word magnificent doesn't do this pair justice; gentle, sweet, energetic and just two extremely well-rounded healthy happy Jack Russells looking for a home together.  They are so very bonded.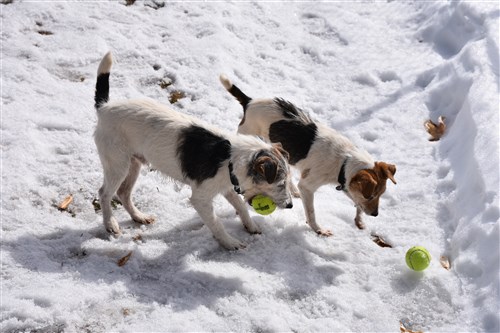 Coming from a home situation where they could no longer be kept, they were extremely well loved but didn't have all of the attention or the time from their owner because of his horrific multi job work schedule. But loved they were, and it's evident by the tenderness the jacks show around their humans. Both of these jacks are extremely well behaved, with very quiet personalities; but once they head up to the agility field they are absolutely ball crazy and can run and dance as if they were puppies.
Typhoon can continuously bounce so high that we think he might have pogo sticks attached to his hind legs. As my vet said "only a Jack Russell at 12 has that kind of energy!" They both appear to be quite clean, and seem to get along with other dogs. They did live with their son Vittorio, but he could be quite aggressive with the dad so they were separated and Vittorio will be joining JG in the near future. They are beautifully crate trained; as a matter of fact they spent their evenings in a crate and during the day were outside in a dog run. They travel beautifully in the car, and are extremely affectionate with each other and with all people they meet.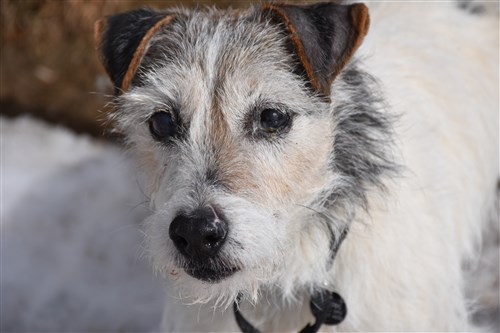 We made sure that they had dentals done as soon as they came to Jacks Galore, with full senior panel blood work; and their health is most excellent. Roxxy is quite pigeon toed, but it makes her more endearing when she comes up to you to seek attention, and does not seem to affect her enjoyment in taking walks.  And walking they do so relish when the leashes appear.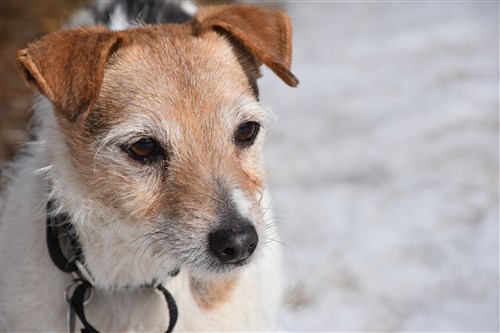 Always looking to grab their people's attention, longing for some play time, tummy rubs, and some soft kisses on their head, this pair is a dynamic duo certainly to offer any home an everlasting amazing jack experience.  Still with some years ahead considering their good health, it is time to see what a senior jack pair can do for you – bring joy, love and oh so much enjoyment – and best of all, YOU will a have performed a great service to the jack rescue community by stepping up for the elders in need.  Do not hesitate come and admire them soon!!!