Teddy is a 10-month-old brown and white male, three-quarter Jack and one-quarter Chihuahua mix. With an adorable curly tail, he weighs a delightful 11 pounds.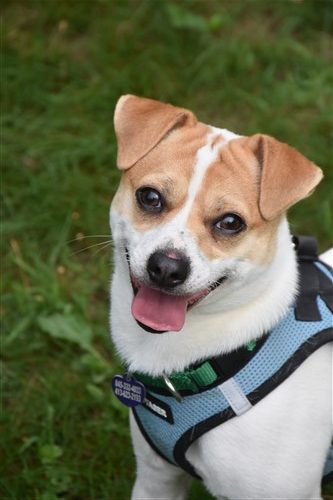 Teddy is another COVID puppy. When we were asked by the national rescue to help him, two of our fabulous volunteers traveled to bring him to us. On his initial introductions he was very scared and frightened, but now that he has settled with us here at the rescue he is a delightful little dog.
This little mix is so willing to please, eager to play and be loved. Extremely well housetrained, and an exceptional ballplayer, Teddy is learning to finally walk properly on the leash and doing a very good job of it. When he knows it's time for his walks he has this delightful little scream letting you know that he just can't wait to go on that hike. He races out the door with such strong vocals it's hard to contain your laughter. The excitement is palpable.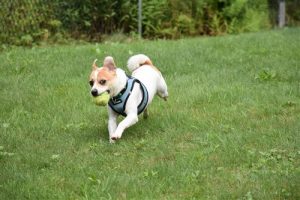 A little dog who adores squeaky toys and has a few he gathers with him in his bed to take care of. He does not destroy them but tends to them carefully. Teddy appears to be crate trained, but like most jacks is not very fond of being in one. He travels very well in the car and enjoys going on adventures.
A little leery of strangers, his lack of socialization makes him want to be sure that no person will do him harm. His new family will need to work on building his confidence. Teddy gets along with very friendly and kind dogs and is desperate to play with them, so a dog friend to help him learn the ropes of living with, a loving family and allowing him to play like a dog would be ideal.
Teddy will need a lot of patience and love; he will certainly reward you in spades!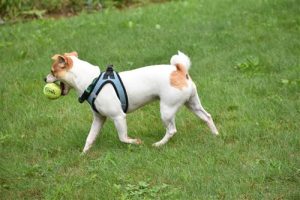 Apply to Adopt Teddy