ADOPTION PENDING!!!!!
Suzie is a three-year-old, tri color brindle smooth coat female, long legged Jack Russell, most likely a mix. She weighs an extremely sturdy 20 pounds commensurate with her athletic ability. Suzie was a stray and ended up in a shelter where one of our rescue partners pulled her and sent her to Jacks Galore.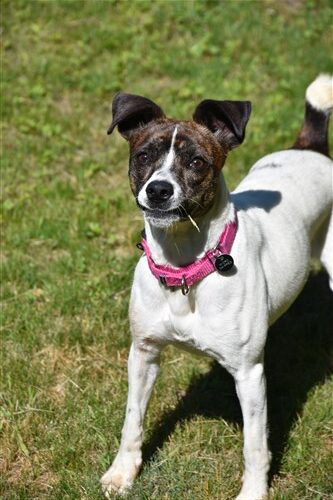 We are pretty darn sure we know why she was a stray. Suzie is high high energy, in fact; extremely active, energetic, and in terms of athleticism; all Jack! She has very high prey drive and goes out the gate at 100 miles an hour. Suzie has been enjoying 4 to 5 mile hikes every morning with JG dad and is constantly looking for things to chase or smell. She would be a fabulous lure course Jack; I do not think anybody could keep up with her!
A very beautiful and kind girl, she loves attention and really wants to be with humans, showering kisses. She rides very well in the car, looking out the window and barking if it does not go quick enough. She can be vocal when she wants your attention but with ferocious tail wagging she lets you know how thrilled she is when you come to get her.
Suzie gets along with all dogs but is very intense when she plays and doe snot back down from racing. Some dogs are just overwhelmed with her enthusiasm. Suzie appears to be well housetrained but absolutely has to have a secure fenced yard. This Jack Russell loves to run on the agility field to rid herself of  excess energy, and likes to play ball if provoked.
A delightful all Jack girl, Suzie needs someone to keep her physically active and form a bond with training, which she would certainly enjoy. She is very keen, smart, and sweet!