Stone is a 2 ½-year-old brown and white 13 pound petite smooth coated male Jack Russell mix with a lovely undocked tail, who came to JG with his three other housemates to find a new home.  Stone also has a lovely lip curl from losing a canine at some point in his life.
Living in a family with too many dogs the four little terriers were brought into the shelter to find a new life. Arriving at Jacks Galore, Stone settled in quickly, but it's evident he wants to learn what it means to be a pet.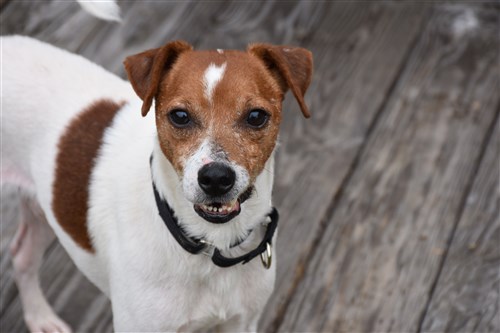 This enthusiastic fellow is learning quite well what it means to walk on leash, and figuring out that this means going for long walks in the woods and discovering new things like chipmunks, geese and critters in the trees. This dog has a lovely gait and is a joy to walk. He's very good in a crate; he appears to be quite clean, but like any new dog will probably need a refresher course when he lands in his forever home.  Stone is very polite, incredibly enthusiastic when it comes to being with his person for walks or cuddling.
Stone gets along with all the ladies, but appears to be more comfortable around bigger male dogs than him and then has a grand time playing and running around. A very affectionate dog he gets overly excited and cannot contain himself while licking you. He has a great desire for attention, and will gladly share his person with his roommate, leaping over each other with happiness. A little scarred up from having spats with some of the other terriers when all the females went into heat (all the boys were unneutered), his skin is healing up nicely, and after obvious flea infestation from his former life, he soon will be as gorgeous as his personality.
Stone will soon be as smooth as the ones found on the beach.