ADOPTION PENDING!!!!
Spot is a five-year-old tricolor Jack Russell lab mix whose mama JRT Sally came to JG with her two sons; Spot and Bear who are double her size! Spot weighs 24 pounds, is short legged and has a long torso.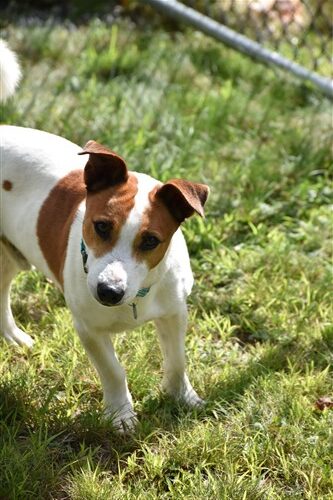 Spot's owner tragically committed suicide and a family member brought them to a very high kill shelter from where a Good Samaritan, who knew the dogs, rescued them immediately. The trio were outdoor dogs, obviously well taken care of and much loved.
Spot is the one still hoping for a forever home where he can be a family member once again. An extremely clean dog, he is very well housetrained and got along with his mom and to some extent his brother. This Jack will do best with a female companion who can lead the way.
Spot rides very well in the car, is quiet in a crate although not very fond of it. A typical JRT with tons of energy, Spot is quite the hunter. He enjoys going after the bunny rabbits in the field at the rescue and finding their little holes to dig at. He does not seem at all interested in toys, balls or anything that he can play with, but bestows all of his attention on his human. While running around and looking for rabbits, he always veers back to his person to be hugged, adored and petted.
A little shy at first, he is very gentle, and very quiet.  Quite a stunning Jack Russell mix and with some guidance and training will become a wonderful family member. It's quite evident that he's never been walked on a leash and although he's learning slowly it will take him some time to know that walks are safe and he does not need to fear or panic by being led away from his secure environment.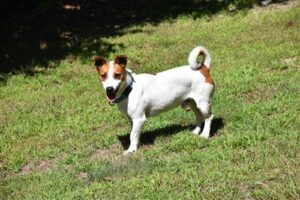 Spot has not had much experience in the wide world, but he certainly is willing to love his human and let them guide the way.