Sparky is a five-year-old male cream-colored rough coat Jack Russell/Cairn terrier mix who weighs in at 13 pounds. Left in a high kill shelter in West Virginia by a family member when his owner went into a nursing home, we were asked to take him in because he was absolutely terrified.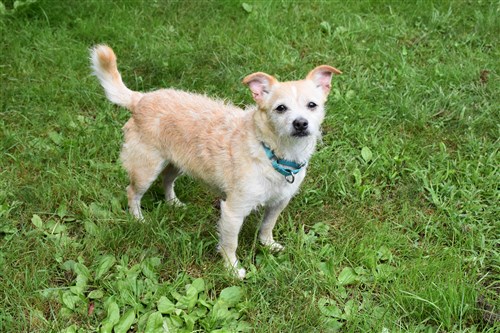 It is clear to us that he has only known one home, as he is extremely fearful, but not aggressive, when he first meets an unknown person. Once he learns to trust you, then he is the most loving and delightful little dog there is. Leary of strangers, he will need a home where he will be able to settle in and learn a nice routine of long walks, which he absolutely loves, and lots of snuggle time.
Sparky gets along with all dogs, and he is housetrained. He is a very tolerant dog with an enormous amount of enthusiasm who loves to play with his fellow four-legged friends and has the zoomies when he is let loose on the agility field. He would probably settle in best if he had a fellow dog mate who could show him the ropes of his new home. He does not like the crate, although rides in it quietly when he is in the car. Sparky will need a fenced yard.
Here is a dog who has much enthusiasm and lots of love to give when he knows that you are there to be kind to him. We are not sure what happened in his previous life, or how we ended up unnecessarily in the shelter, but he is a delightful little dog who has so much exuberance for life and so wants to be loved.