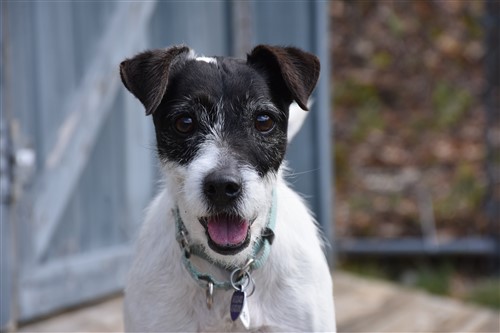 ADOPTION PENDING!!!!
Siri is a 10-year-old black and white broken coat female Jack Russell who weighs a very muscular 16 pounds. This delightful little girl came to us because her owner sold their farm and moved where the jacks could not come with them.
Siri is a hunter.  An outdoor dog all of her life, she knows nothing more than hunting, constantly in motion, high energy and focused on the prize. On her walks she runs from one stonewall to another, digging holes where critters might hide, and looking for anything she could possibly ambush! Siri is a car chaser, and definitely needs to live in a very rural environment where there is not a lot of traffic to stimulate her wild reaction. Siri travels well in the car though, its cars passing by her that sends her spinning!
Very gentle and loves people; she made lots of friends at the vet clinic.  This beautiful little  girl is clean in the kennels; she is super smart so it will not take her long to learn anything you ask of her. There does not seem to be much interest in toys and ball chasing is of no interest to her.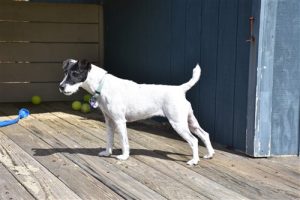 A Jack Russell to the max, this beautiful JRT is the real deal, hundred percent energy and attitude. She walks beautifully on leash, but her person will have to keep up with her because she is incredibly fit for a 10-year-old. Siri is very dog selective, and possibly a very calm male might work, but she has shown very little interest in other dogs. This Jack Russell absolutely needs a fenced yard, and no exceptions will be made.
A challenging love, but an amazing and fun Jack Russell, NOT showing her age!  Apply to Adopt Siri.