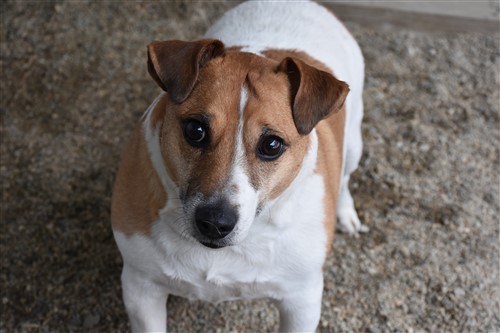 Scooter is a seven-year-old brown and white smooth coat male Jack Russell terrier. Scooter desperately needs to lose weight and should weigh about 15 pounds. This delightful JRT came to us when the family surrendered him because they were no longer able to take care of him.
Scooter was loved, but the family fed him excessively and thus poor Scooter ballooned to double his appropriate weight. Scooter did not want to walk when we accepted him and we assumed it was because of his excess poundage. While being thoroughly vetted, Dr. Ray confirmed our suspicions that he was blind. At some point, probably fairly recently, his retinas detached. He is in no pain, and he manages marvelously without sight. Scooter is perfectly healthy, no diabetes and his blood work was 100% spot on.  He was just fed way way way too much.
In the kennels, he has learned the dog door and maneuvers the ramp we placed by the door skillfully in order to go outside to do his business. Scooter is extremely well housetrained, and we were told he would bark at the door of his previous home when he wanted to go out. Of course, he also barked when he wanted to go out to play! Scooter enjoys playing with balls and squeaky toys.
He gets along with female dogs; he lived with his sister and mother, but is not very fond of males. An extremely sweet and gentle Jack, Scooter will most likely enjoy life again once he has lost those excess pounds and is able to maneuver his body more easily.
He was a star at the vet, gets along with all people and his tail wags constantly. When you talk to Scooter his head tilts listening to your words and he uses his nose exceptionally well to make up for not seeing. He absolutely adores riding in the car and can be quite fearless despite his handicap.As with any blind dog, one must remember to allow the dog time to learn his surroundings, to forewarn your approach with a sound and never allow Scooter to be startled by something he cannot see.
Jacks Galore has had many blind dogs in sanctuary and it is amazing how they have learned to maneuver dog doors, stone walls, trees and furniture after being with us for just a short amount of time. Jack Russells will not be held back, they live life, and Scooter has a lot to give and will be a marvelous companion to anyone willing to "show" him the way.