ADOPTION PENDING
Ruby is a 2 ½ year old brown and white smooth coat, wee little Jack Russell mix who weighs in at a mere 11 pounds. The sweetest little girl who gives soft kisses, she is probably the most shy of her three siblings.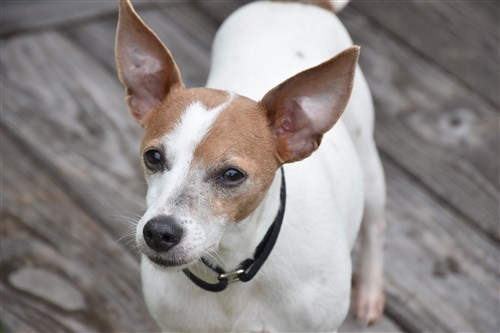 Brought in as a group because their owner had too many dogs, they came to us to be rehomed when we were asked to step in. Ruby is a delightful little girl, who gets along with other dogs and helped her sister Opal raise her pups. We do not think she's been a mother before, but she's very nurturing indeed.
She's only just now learning how to walk on the leash but is making progress every day with her harness on, and is enjoying smelling everything that comes along the way. She stays extremely close to one's legs just to make sure there is someone to protect her. She seems to be quite clean, but will probably need a refresher course on house training, because we are not sure how much time she spent in a home. She's very quiet, we have not heard her bark yet, and she likes to explore the grassy areas in the agility field, and run like crazy with the freedom. She's fine in a crate, rides very well in the car but does not show any interest in toys or games at this point.
Everything seems quite new to her now, so she's a little tentative on a lot of things that are being introduced to her. Over time, with much patience and love she will certainly come out of her shell and be an amazing companion.