ADOPTION PENDING
Roxie is a nine-year-old smooth coat white female JRT with a soft lovely brown face and a lovely size, weighing in at 16 pounds. This very sweet girl came to us when her owner, who had two females, could no longer keep them safe as they were fighting each other. That being said, typical same-sex female aggression in this breed, she gets along with the opposite sex as well as other non-jack dogs.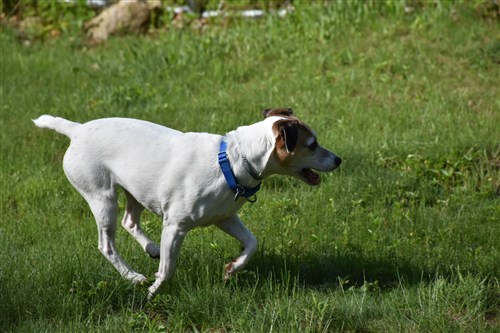 An overly enthusiastic and rambunctious dog; her energy and desire to be on the go belies her age. She walks well on a leash, but will definitely keep you moving at a fast pace, and notices everything around her. She loves to run around like crazy in the enclosed agility field, and always seems to have energy to burn.
She is extremely well housebroken, but doesn't always have the best house manners and being a very high jumper, anything on counters could be in danger!  A very affectionate and loving girl, she can snuggle with the best of them, and once her energy has dissipated, she's ready to relax and be her human's best friend.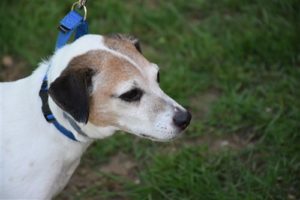 She rides very well in the car, she's not a fan of the crate and is very vocal about it, but is a people magnet wherever she goes and really loves the attention.
Once she has her routine, is given the chance to be active and has a job, she will be the most amazing partner and companion.