ADOPTION PENDING!!!
Rocko is a 1-1/2 year-old male tri color Jack Russell with an undocked tail who weighs 14 pounds. Rocko came to us because his owner became very ill and could no longer care for him. The shelter then adopted him out to an elderly gentleman who brought him back the next day because of his exuberant Jack Russell enthusiasm for life! We offered to help and Rocko then ventured to our foster where he blossomed under the care of Pack of Jacks. Rocko has now joined Jacks Galore.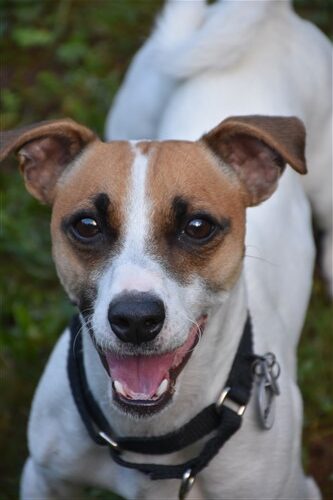 Rocko is full of puppy energy, loves to take long LONG walks and does so beautifully on leash. He is mostly housetrained but will need a refresher course, and he does get really excited when it's time for walkies. This little terrier loves people, loves to play, and enjoys being the center of attention.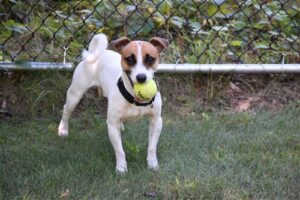 Typical JRT, chasing the tennis ball is high on the list of enjoyments!!
Rocko is crate trained but if there are other dogs, he can be quite possessive of his crate and his toys. He certainly enjoys playing with other dogs, and had a roommate his age where they would enjoy crazy chases together, but Radar was adopted. Now he's waiting for his forever family, and if there is another dog he does need very slow introductions. There is no doubt that this little JRT would love to play with a similar energetic dog.
Enjoys car rides, snuggling with his humans, and was an absolute angel at the vet, but is very lonely after having been with a family and now waiting for someone to adopt him.