Rocket Man is a 3-year-old male, tan and white, curly rough coat Jack Russell mix, who weighs 15 pounds. A VERY dear, friendly, sweet dog who adores people and gets along with all dogs; he loves attention.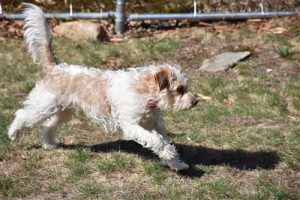 Rocket Man came to us when someone had found him on craigslist, for the second time, and felt that he had too much energy for her and the elderly dog already in the home. This was the same reason that he was given up by an elderly couple who had gotten him off craigslist the first time. Originally he was found as a stray, and then sold on craigslist. At Jacks Galore Rocket Man is a typical energetic jack, full of enthusiasm for life, enjoys playing with his fellow jack pals and cuddling with his humans. Rocket has so much enthusiasm for life, he relishes each day with his person.
Not a barker, we rarely hear hime be vocal, he does grin a lot though!!!  He gets along with all dogs, and is very polite with his fellow four legged friends.  When he does play he enjoys playing like a wild man once he gets to know them, like an acrobat he can run all day long till all dogs are too tired out .  Not a toy or ball dog, he gets his enjoyment being with his dog pal and his people.  Rocket Man is very clean in the kennels,  he does very well in a crate, rides beautifully in the car and enjoys very long walks. Very smart like any terrier, he learns quickly and wants to please. He prances gracefully by your side, ejoying marking every rock and stick he comes across along his path.
Even though he has not shown much interest in toys or balls, we're pretty sure over time, when he has family of his own, that he will enjoy that extra bit of tug-of-war. Rocket Man will need to be brushed on a regular basis, as his flowing locks could use some smoothing out from time to time. But his fur is soft, and he enjoys it when someone shows him some affection. A delightfully adorable little JRT mix, this dog is sure to make anyone smile when they are greeted by his wagging tail and amber eyes.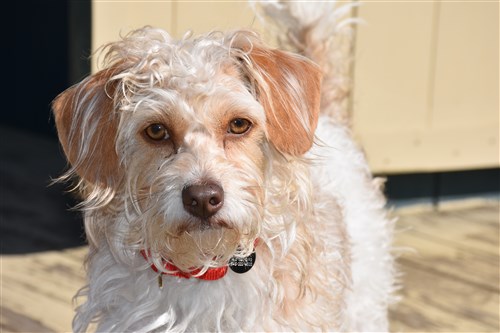 Nothing but praise about his love of other dogs and people – he adores the world, and does love to snuggle at night. Wants to be at one with a new family member.