Remy is a six-year-old male tricolor broken coat "Irish" shorty. This adorable little guy came to us after his owner's house burned down and found by a local animal control officer after he luckily escaped. The owner, who was not home at the time, is sadly quite elderly and now resides in assisted living. When contacted by a family member, we of course agreed to bring Remy into rescue.
Remy is extremely overweight, but is currently on a weight loss program with lots of power walks and has already shed quite a few pounds, but still has a long way to go. He can easily muster a 2-mile walk with gusto.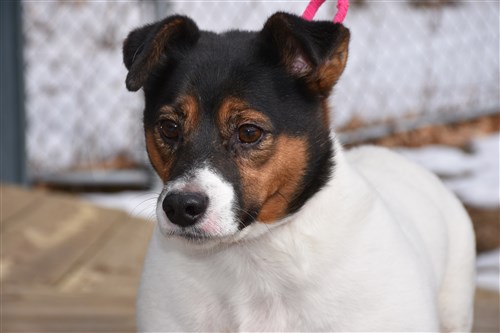 An extremely loving little dog with his humans, very devoted, but was obviously quite sheltered and therefore does not like dogs at all. He is crate trained, housetrained, very well behaved and enjoys very long walks. Remy is a very quiet jack. He rides very well in the car quietly enjoying the scenery through the window.
When up on the agility field he runs around and enjoys sniffing all of the areas where little critters have left their mark. This jacks is quick!!!  Other than his excess weight, he is extremely healthy, longing for a family with whom he can partake in lots of hikes and healthy meals.
Once he reaches his normal weight, at about 14 pounds, he will be quite the handsome JRT!  Apply to Adopt Remy