RC is a 3-year-old black and white male, long legged Jack Russell Terrier with an undocked tail, who weighs 17 pounds. RC came to us after being pulled from a horrific hoarding situation with way too many dogs living outdoors in terrible conditions. We obviously wanted to help when were asked.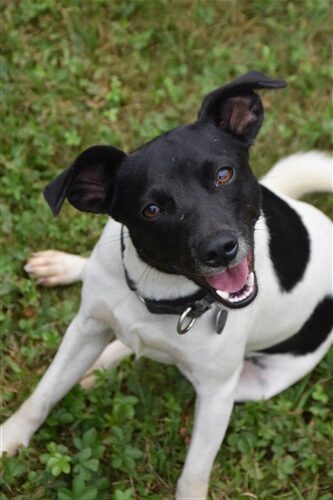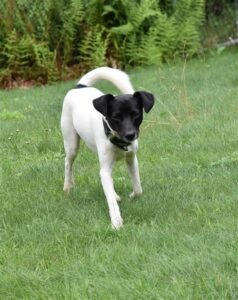 RC has never known what it means to be part of a family, but is extremely gentle and very sweet and is willing to learn what he is being taught.
This Jack adores being petted and loved on, and his tail is constantly in motion when he sees you come to meet him.
He has been very clean in the kennels, is slowly learning to walk on a leash enjoying the smells that he can find on his way. He is very enthusiastic when the leash comes out. A typical JRT who takes great pleasure in zoomies on the agility field where he can run run run to his heart's content. RC is alert when taking his walks, because everything is new to him and he pauses often to see where sounds or smells might be coming from.
RC lived in a large pack of dogs, and is cautiously friendly when meeting another dog.  He quietly lays on the cot outside preferring to be there watching the world go by, and does entertain himself quite well with chew toys he is given.
RC is certainly a project for someone to work with, but this dog enjoys the company of his people, and wants to learn to be the perfect family member. Another dog companion might help him learn the ropes.  This dog will be worth every effort that anyone offers him, super smart and a very quick learner. Apply to Adopt RC