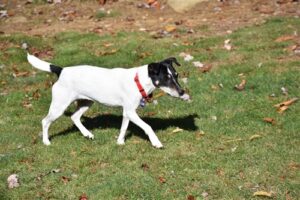 Puff is a well built 14 pound , 12-year-old tricolor broken coat female Jack Russell Terrier, mom to Siri. Puff came to us with her daughter because the family moved in retirement and was unable to bring the dogs with them.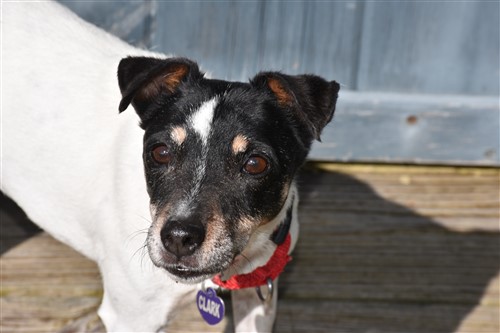 We were delayed in making Puff available for adoption because when she came to us she tested positive for heartworm.  As with any heartworm positive dog we then treat them to rid her of the heartworms.
This treatment is lengthy and now after 5 months, and having brought her back to health, we can confidently allow her to join a forever family. Puff did well throughout the entire treatment and is definitely ready to go home.
An avid hunter, she lived mostly outdoors, and enjoys going for long walks. She does walk beautifully on leash and is a very well behaved Jack. Her nature is calm until she sees a critter or thinks there is something to be found, and then she goes into high gear.
This JRT appears to be housetrained, and loves to sit outdoors and watch the world go by. Puff is very quiet, and can be affectionate when it suits her, but does not seem to be interested in playing or toys.  A hunter of the highest caliber she is best at what she loves to do most.
Puff would probably do fine with a mellow male Jack, but does seem to enjoy her own company. A beautiful female JRT, with a gentleness and style of a lovely senior, who now has absolutely perfect health and still has many more years to go.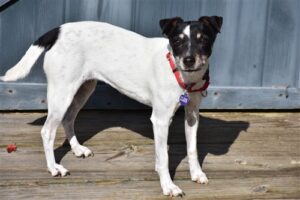 We hope that someone will afford her the possibility of relaxing in a home and go for a nice walks with someone who appreciates the breed.  Apply to Adopt Puff