ADOPTION PENDING!!!!
Percy is a six-year-old brown and white rough coat, male Jack Russell who weighs a "shorty" 14 lbs.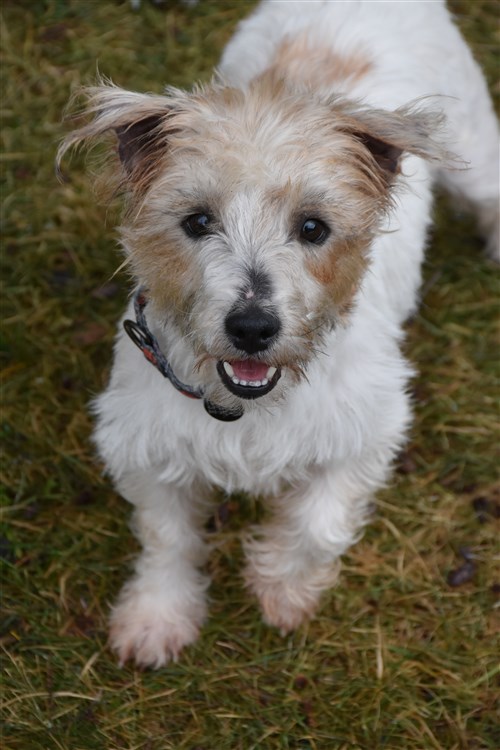 Along with others of his family, he lived his whole life outside being a "stud dog". This fluffy JRT came to us when another rescue asked us to help with some southern Jack Russells after the breeder died.
Percy is one of the most fearful of the group, but once he gets to know you he is an extremely enthusiastic and loving little dog. There is not a mean bone in this little dog's body, and he gets so excited once he knows you, he cannot stop giving kisses and wanting to be petted. We are not sure what he experienced the first six years of his life, but we are sure he had little contact with people. One thing is certain; he is great around other dogs and gets along with his fellow four-legged friends.
A little Jack Russell that deserves the chance of having his own family and a home where he is safe and loved. Percy will need to learn proper house manners and given a chance to settle in.  His new humans will have to have lots of patience and understand that for Percy, his life is only just beginning. He travels very well in the car, and is quiet, not understanding why his life is been totally turned upside down. He was a stellar guest at the vet, and everyone fell in love with him.
Percy will definitely need to have another dog in his life to show him the way and from whom he can learn and gain confidence, and a fenced yard is a requirement. There will be much pleasure in helping this dog lead a normal, joyous and active life. The reward will be great.