Peppermint is a six-year-old brown and white female smooth coat shorty who weighs a solid 9 pounds. Youngest of our group of five who came to us after their breeder owner died, she is truly a most adorable little JRT.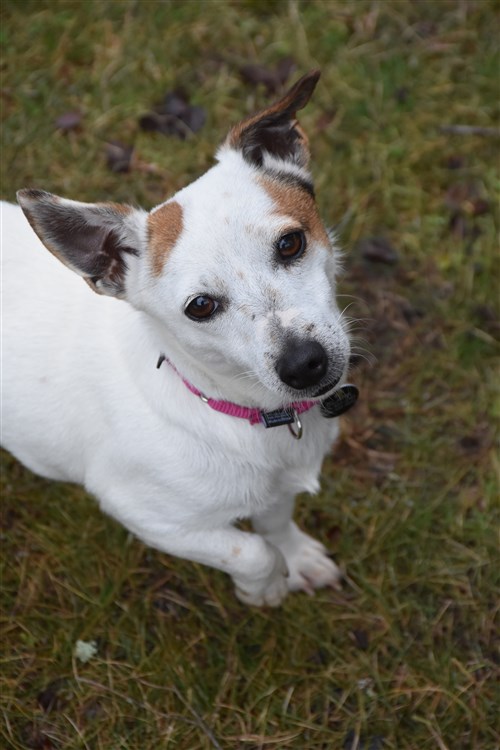 Peppermint gets along with all dogs, she has lots of energy and loves to run around and play, but having lived outside all of her life will need to learn the ins and outs of being in a home. She loves humans once she learns to trust, is somewhat head shy, but very happy to be petted when she feels comfortable with your presence. Peppermint seeks attention and is very gentle.  This girl rides very well in the car in her crate.
A model patient at the vet, she just had surgery to remove large bladder stones that have been most likely plaguing her for a very long time. This little Jack is now going to feel a lot better and ready to head into her new healthy life.
None of this group are familiar with walking on a leash, but will certainly learn with some patience and encouragement. As with any jack their curiosity will lead the way.  Like her fellow jacks she loves being outside and hunting for critters and enjoys running around in the fenced area. A hard fence is a requirement. No concept of what toys are, watching her blossom into a playful companion will be a wonderful experience.
A delightful, adorable and sweet little JRT, the hope is that someone will afford her the luxury of being in a home, safe and loved.