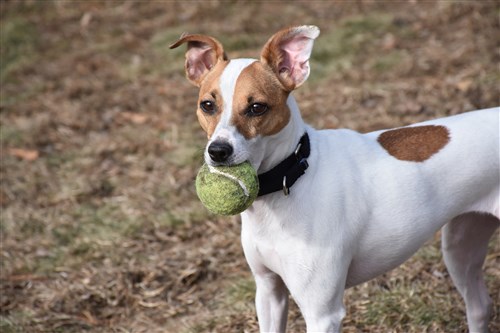 ADOPTION PENDING!!!
Penelope is a three-year-old smooth coat tan and white Jack Russell female, who weighs in at 16 pounds. This lovely little girl came to us because of the family's personal circumstances.
Very much loved since puppyhood, she is extremely well housetrained but does need some training with basic commands and understanding what is asked of her. Her youth shows in that she does not focus on any one thing; this jack's world is filled with wonder!!!  She rides very well in the car sleeping quietly in her crate, and loves to play with her squeaky toys and of course, as with any Jack, the tennis ball rules!
She has an inordinate amount of puppy energy, loves to go for long walks, is prey driven and certainly no squirrel or chipmunk in her sights will last long. The ball is king with Penelope; she can absolutely play for hours bringing it back to you, dropping it for more throws. However, get the ball back? Forget it! She is impossible to corral; she is tricky, super smart, stealth, and extremely fast.  She loves a good chase!
This JRT MUST have a secure fenced yard – she will run off and is very hard to catch. Penelope is quite overwhelmed by other dogs, but perhaps with a very mellow and kind male, she would do just fine.
A very loving little dog, she longs for a lap to curl up on after she spends hours making you run around the yard playing ball and chasing her.