ADOPTION PENDING!!!!!!!
Otto is a three-year-old male, smooth coat all-white shorty JRT who weighs a wee 10 pounds. Otto came to us with the last group of the breeder jacks whose owner had died.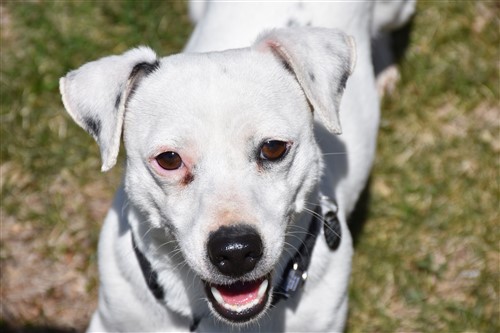 A tiny JRT who gets along with all dogs, but will run from any pushy large ones; he is not at all confrontational. This little one is very shy, and if any sudden movements come his way, he will back up quickly. Otto is one of the most insecure of the group, the last still waiting for his forever home.
Even though he is extremely docile with humans, he turns into an exuberant little Jack Russell when he is on the field playing ball. He leaps in the air for joy to catch it and is willing to have a tug-of-war with a fellow Jack Russell. He brings the ball back for more tosses and his tail wags relentlessly as he sails to catch them.
An adorable, sweet little jack, who like his fellow friends, deserves a very patient human to bring him out of his shell and allow him time to learn about life.  He is fearful of the leash, and just flattens when he is hooked up.
Otto is the dearest of dogs, and needs time to learn basic things like housetraining, leash walking and being a family member.  Otto is fine in a crate and a gentleman at the vet.  A fenced yard for this tiny dude is a must, and the company of another dog preferable.  With guidance from a four-legged friend, he will learn to maneuver his new world much more quickly.
All the others who came with him are thriving in their new homes and are just exceeding all expectations of their new humans and of us here at Jacks Galore. The ability to learn new things, to compensate for what they have never had, and to adjust to their new environment has been astounding.
Otto, like his fellow jacks, deserves the chance at a wonderful loving life. He so, so very much wants to have that loving hand but has never known it before and needs to learn that it is kind and not something to fear. Apply to Adopt Otto