Opal is a two-year-old tricolor, smooth coated female jack mix who came in with her three siblings Stone, Flint and Ruby. Very similar in looks to her sister, Opal weighs 12 pounds and is a fine boned fiery little girl.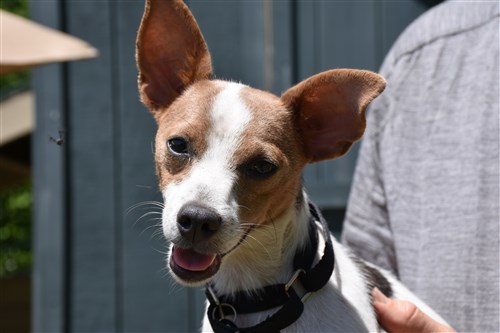 As lovely and sweet as can be, she very much enjoys playing with other dogs and she recently had a litter of puppies and she was a wonderful mom. She has lots of energy, is very playful and extremely loving with humans. She appears to be quite clean, but with any dog of unknown history she will have to be given a refresher course in the house training department. She does well in a crate, was wonderful at the vet, and rides nicely in the car.
At this time we do not see her having any interest in toys except for chasing after something that is thrown and running back like a crazy girl without it. Opal is learning to walk on a leash, and enjoys sniffing and smelling her surroundings, curious about everything she hears. This little girl will definitely make an excellent companion for someone who will show her much affection.