ADOPTION PENDING!!!
Ollie is a 2-year-old male, black-and-white rough coat Jack Russell mix with an undocked tail. He weighs a delicate 16 pounds. Ollie came to us because his owner died, and when two Shitzus he was living with found a home, we were asked to take in this adorable little boy.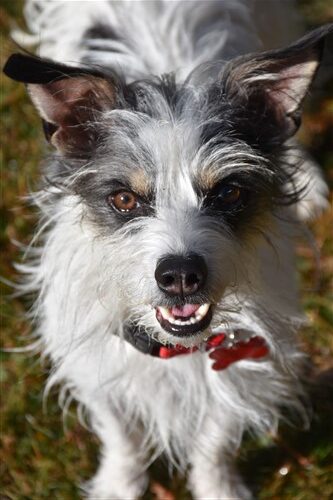 Ollie was much loved by his human. This little dog is affectionate, sweet, very gentle, and adores being doted on. Very athletic, he walks fabulously on a leash and enjoys staying by your side. During his walks, he has discovered sniffing the air and observing what's around him is pleasurable.
This adorable terrier mix loves to chew on Nyla bones, but has not shown very much interest in playing with toys.  Ollie loves to run around after the ball but does not retrieve, something a young pup will learn quickly. This boy is housetrained, well behaved and wants to be by your side gladly asking for tummy rubs.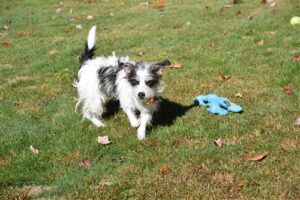 Very much used to an extremely quiet home and being loved, he so badly wants to be with people again. Any time he sees you, he barks and greets you dancing on his hind legs. He rides very nicely in the car and enjoys watching the scenery as it speeds by. A delight at the vet, he was very well behaved and brave. Crates are not his favorite but he rides quietly in the car when crated.
His beautiful long flowing fur could use an occasional brushing, but is very soft and he keeps it quite clean. This softness extends to his beautiful big brown eyes. Ollie gets along with other dogs, and as mentioned, has lived with two other dogs. Look no further than this lovely young pup to bring some joy and fun to his forever family.