O Jax is a six-year-old, stocky tricolor male smooth coat JRT, weighing in at 20 pounds.  It probably would do him well to shed a couple of pounds. O Jax found his way to Jacks Galore when a Pit bull rescue in Ohio contacted us in the summer of 2016, seeking help with a breed they were not familiar with. Pulled from the shelter the day before he was to be euthanized, they did not feel they were able to give him the possibility of a forever home because of some minor guarding issues.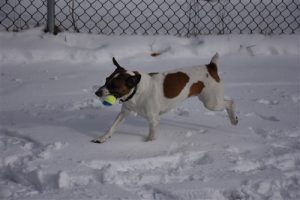 A half year later we finally found room for him and brought O Jax from Ohio with the other little shorty who needed a forever family.  O Jax is extremely well housetrained, very well mannered and walks beautifully on a leash for very long and vigorous walks. He also is a ball nut, and loves to chase and retrieve the tennis ball for hours.  With this sort of continued activity it will not take him long to slim down.
This dog does not like to be crated, but will travel in one if necessary, but he loves riding in the car, jumping in readily and settling in quietly. This dog was fostered by a family for quite a few months and did well, but did have some guarding of his space, so he will need to learn that he cannot take over the sofa!
This JRT does very well with dogs his size or smaller; as a matter of fact he enjoys the company tremendously, sharing in his walks with enthusiasm. He is quite the serious hunter though, with a strong prey drive. NO CATS! A very gentle dog when given his treats at bed time, he does love to have his back scratched and enjoys the affection he is given. It is quite obvious to us that before he went into foster that he might not have had the attention and love he deserves.