Myla is a 9-year-old tricolor female Jack Russell cross. She has an undocked tail and now weighs a perfect 16 pounds having lost 6 pounds since she came to Jacks Galore.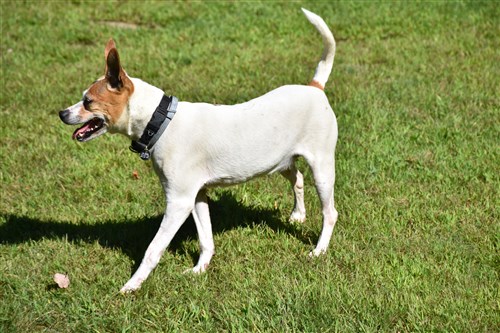 Myla came to JG when her owner died and the woman's son went into rehab. Coming to the rescue was meant to be a long-term foster, because we hoped we could help him since it is all he had from his mother. Unfortunately, the young man has not had much success in improving his health condition. We then said yes when asked to please find her a wonderful forever home.
Myla is housetrained; she is very sweet and gentle and absolutely adores belly rubs. She has shown absolutely no interest in toys or playing ball, but is very focused on being with her person. She walks lovely on the leash and is now enjoying some nice long hikes where she keeps a steady pace.
Myla travels fine in the car, she is crate trained, was very well behaved to the vet when she had her dental. She greets other dogs politely, but is very selective as to which dogs she will interact with playing.  She could be a good match for the right dog.
An extremely healthy and very vibrant JRT mix, she will make a lovely companion for someone who wants a dog that will be very devoted to them, wanting to give her person an enormous amount of gratitude and love for being in a home environment once again. It is obvious she is extremely sad about losing her family, and we hope that she will find her new person soon.