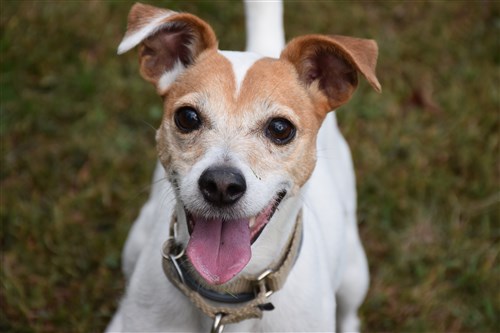 Murphie is a 9 ½-year-old female, brown and white smooth coat Jack Russell, weighing in at 14 pounds. This girl is the energizer bunny.
Murphie came to us because she was guarding the newest infant in the family from the other dogs; but was fine with their slightly older daughter.  They had her since she was a puppy; obviously very much loved. This Jack Russell is the sweetest, kindest and gentlest girl there is with her humans, but she is very possessive of her toys from other dogs. She does get along with other dogs, but would do best as a one dog family.
Murphie is housetrained, is good in the car, and is crate trained but will bark until she is let out. This JRT is an amazing ballplayer, and she can catch any throw, and retrieves it loyally waiting for the next one. She walks beautifully on the leash, has quite the energy and step to her gait, and could easily pass for a two or three-year-old dog. She is in perfect health, loves playing with squeaky toys and shredding them to bits.
If her happiness doesn't convince you she's a great dog, then perhaps her beautiful twinkling eyes that show her exuberance for life will.