Molly is a tri color petite female JRT who JUST turned 2 and weighs in at exactly 15 pounds. A sweet, shy little girl, whose previous home did not do right by her. Contacted by another rescue to please take her in, we of course succumbed to her beautiful face and soft chocolate eyes.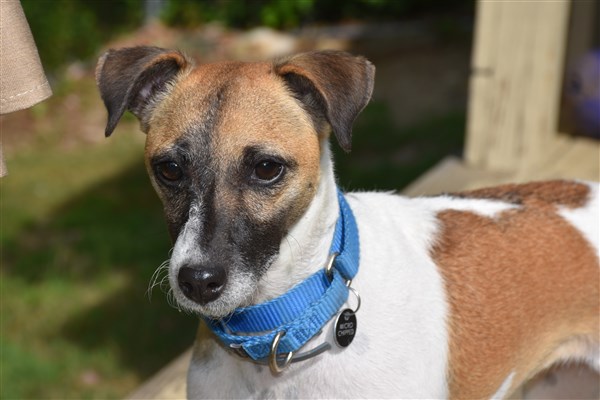 She is slowly learning what it is to enjoy life, and her inner jack appears on her long walks; which she adores. Molly walks beautifully on the leash, is slightly taken aback by cars, but enjoys romping over the stone walls or through the woods and using her nose to check out things on her path. Balls are of interest too.
She is housetrained, she does fine in the crate, although does not enjoy it, and she rides beautifully in the car. This JRT loves to tear apart squeaky toys, but thank goodness does not eat the parts, and loves to throw a particular red ball in the air and catch it and play with it in her kennel.
She seems to get along with all dogs, although is very cautious when approaching a new friend to make sure they are likable. Quiet and gentle, Molly deserves to be afforded time to gain her confidence and to enjoy the long life she has ahead of her.
A little snuggle bug when she loves you, she is a joy to watch when she has that spring in her step.