Maxine is an eight-year-old black and white female short and stocky Jack Russell Terrier who weighs in at a muscular 17 pounds.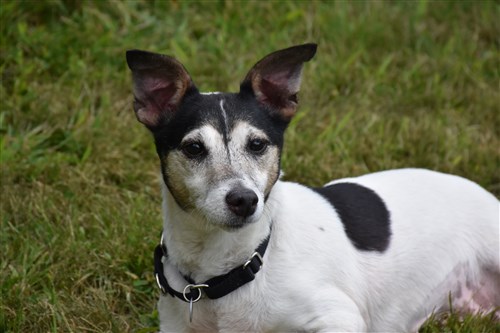 This lovely girl came to us from a backyard breeder who had 13 dogs, but when the house was foreclosed they left the three JRTs to fend for themselves for many months in an abandoned house; except for throwing them food. All of the dogs, including the three jacks, were bred so the puppies could be sold for cash for nefarious reasons. A kindly neighbor stepped in and took the three jacks from them and a rescue in New Jersey brought them to us. Maxine's roommates, Macho and Madison, will also be up for adoption.
A very sweet and loving girl, Maxine delights in the pleasure of a human's company and walks lovely on the leash. She gets along well with Macho and Madison that came with her, and is very friendly with other dogs. This jack is definitely extremely dominant, but in a kind and playful way.
She delights in the outdoors and running around in the fields, but we're quite certain she's never really had any formal training of any kind and just being outside gives her great pleasure. Maxine definitely does not understand the joy of toys. She appears to be quite clean; she rides well in the car, but does not seem to be particularly fond of the crate. She's very healthy, will be having a dental soon, although she does need to lose a little bit of the excess weight she gained while being locked up. As with many of our charges we are certain that with regular exercise and a healthy diet it shouldn't take her long to be the beautiful jack she's meant to be.
Maxine is certainly quite mellow, she's not a big barker and she does enjoy the people she's familiar with. Extremely affectionate offering lots of kisses, she's a little shy with new acquaintances but warms up to them very quickly when she knows they mean no harm. She's lots of fun and will make a great companion especially for someone who enjoys snugglers.