Marley is an 8-year-old black and white broken coated male Jack Russell, whose delightful demeanor and ball playing talent is endearing to all who meet him. Small in stature, if not currently a little overweight, who when slimmed down should weigh about 15 pounds.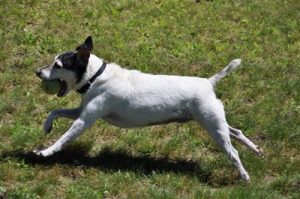 Marley gets along with most dogs, unless someone challenges him, then he will certainly defend himself. Thoroughly engaged in the game of ball tossing, he has lots of energy, walks beautifully on a leash, and most of all enjoys the company of his human.  He LOVES to hunt!!!!  This jack travels well in a crate, loves the car, is extremely clean, and has nice manners but can be very vocal in true terrier style.
Marley came to Jacks Galore when our rescue partner pulled him from a shelter where he was surrendered by his owner. Under what conditions and why, we are not aware, but he certainly did not deserve to die; so we plucked him to safety. Marley's one downfall seems to be that he is not very happy when he's taken to the vet, and does need to be muzzled. Once muzzled he's extremely easy to work with, except for the jack squirming when held in your arms.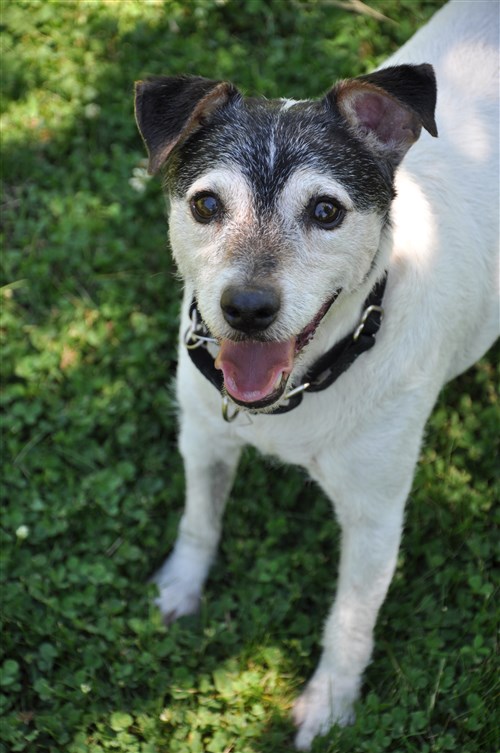 Marley deserves to be in a home once again, and to be loved and given the long walks and ball playing time he deserves. A very handsome fella, his gray speckled face gives a very distinguished gentlemanly look. His eyes are bright and full of life, and his tail wags generously; all the more reason to take him home.