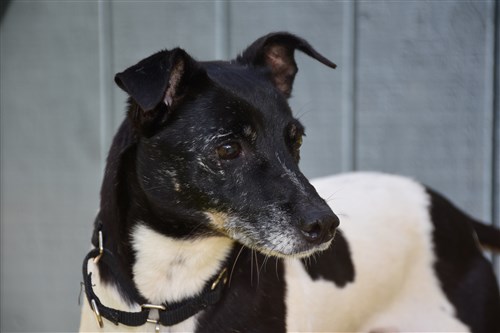 Madison is an eight-year-old long legged black and white female, smooth coat JRT mix.  Maddie weighs approximately 18 pounds. This girl was one of the three jacks left behind in a foreclosed home and came into rescue with her roommates Maxine and Macho.
She is currently rooming with Maxine and they get along great.  They do spar occasionally with each other but it's all playful and energetic; they even eat in the same space without an issue. Madison is a lovely walker on leash, has a wonderful calm lengthy stride, and enjoys going with her human to explore. Another jack that obviously has never had the chance to play with toys.
She is housetrained, is very good in a crate, is not a barker and rides beautifully in the car. It appears she gets along with all dogs, but also is very much a dominant female; but like her roommate Maxine, she is not aggressive. A lovely dog with much affection and gentleness, she has very soulful eyes and can pull you into her gaze very quickly.
One thing this girl IS – an amazing jumper and can easily jump a 4 foot fence.  Great for agility but not so much if you have a 4 foot fenced in yard.
A very friendly and pretty girl, she will make someone a wonderful walking companion and we're sure she's a good snuggler as well!