Macho is a 7 year old black and white male, short and stocky, smooth coat Jack Russell with an undocked tail, weighing in at a sturdy 18 pounds. Macho came into rescue with his two housemates Maxine and Madison.
Taken from a foreclosed home where they were left behind, he is in need of much exercise and slimming down. Macho is a very gentle and a sweet boy, but very timid and unsure of new people in the beginning until he gets to know you. He got along well with his roommates, there were 13 dogs in the house, so he definitely likes other dogs, but is pretty dominant because he was used as a stud dog and only just recently neutered. We were told he is not a fan of male dogs, but have not yet tested him. He loves the girls!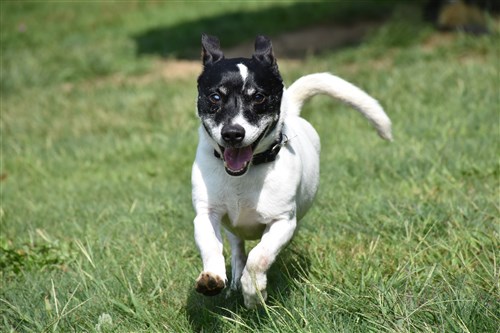 We feel that Macho will need a refresher course on house training, but he has been clean in the kennels. He tends to tear up his bedding, but we think mostly due to boredom. He's not quite sure what leash walking is, but is slowly getting the hang of it and seems to enjoy strolling once he gets his stride. We can tell he misses the company of other dogs and loves to run and play in the agility field but like his two roommates has no idea what toys are.
Macho rides really well in the car, is not a fan of the crate, and is pretty mellow and loves to have his belly rubbed when he gets the chance to sidle up to you. A very loving and affectionate dog, he is very healthy except he appears to be blind in his right eye due to a past injury, but nothing that will affect his eye during his lifetime.
A delightful calm and mellow jack, a snuggler to his humans and willing to learn to be loved.