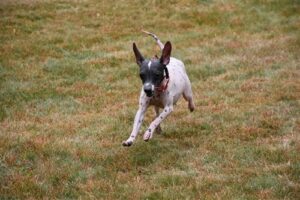 Lucie is a three-year-old female "hairless" Jack Russell mix who weighs a tiny 11 pounds. Working in partnership with Russell Rescue Tennessee, Lucie came up to Jacks Galore after her elderly owner passed and the local shelter took in her nine terriers. This little girl is one of five that came up to JG.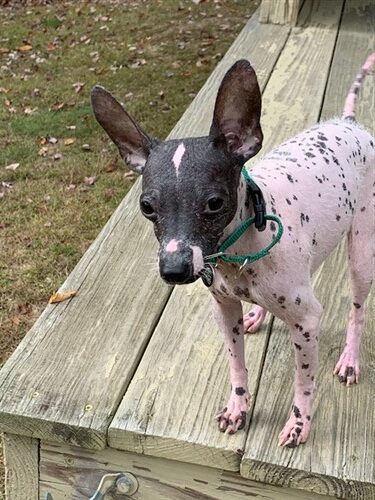 Lucie was NOT bred to be hairless,  just had a genetic malfunction somewhere along the way. She is absolutely perfectly healthy, and now that she is spayed, is ready to go home.
A very dominant bossy pants, she is wild and crazy with energy. Lucie does get along with other dogs, but will be the leader.  Lucie runs around with lots of enthusiasm on the agility field, her nose to the ground.  Often she zooms right back to the person to be loved.
Extremely affectionate and loving of people, she is always ready to absorb as much as one is willing to give. Lucy would most likely be someone's shadow, lovingly showering kisses and tail wags to whomever would be willing to accept it. This Jack mix definitely needs a refresher course on house breaking; rides well in the car in a crate but is not pleased when she's in one when not traveling.
The most adorable mix with enormous ears and tender eyes, she will woo you with her very soft look and special gentleness. Who will give this little girl the gift of a forever home and appreciate her genuine uniqueness.