ADOPTION PENDING!!
Louie is a three-year-old tricolor rough coat male jack cross, who we will call our "jackla". We are pretty convinced he has some Lhasa in the mix, but then again he could possibly be a Heinz 57! His character certainly denotes Jack Russell, he loves to route around and hunt, he loves to play ball and runs like a crazy man. He also absolutely thinks taking long walks is wonderful, and because of his need for some weight loss, at 18 pounds he is quite overweight, those walks will make his slimming down even easier.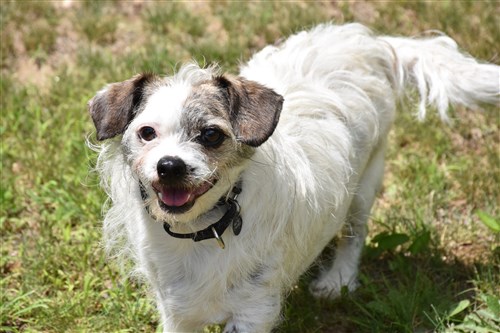 Louie gets along with other dogs, he's very friendly with people, and will right away show his belly for some affection. Louie came to us when his home situation changed to a no dog household, and so we took him in and are glad we did. It appears from his paperwork that he started off as a rescue in Florida, then moved on to a Texas rescue, and then somehow ended up in Massachusetts via Rhode Island, and then to his owner who surrendered him. His past all seems a blur, and nobody could really give an explanation regarding his meandering ride to us here at Jacks Galore.
He was certainly loved by his previous owner, but was never given the exercise he required because of lack of time and the family crisis that ensued. He is certainly enjoying his long walks now, but stops and listens at new noises, then continues on his journey.
Louie is crate trained, rides really well in the car, enjoys traveling and very well housetrained.
This little "jackal" loves his squeaky toys, and squeaks them especially when you come to greet him, he shows his joy by holding anything fluffy in his mouth. Louie is exceptionally clean, very well mannered and certainly loves the company of his humans. He will definitely need a weekly brushing by his new owner as he has a beautiful Mohawk, and it will need to be kept untangled and clean.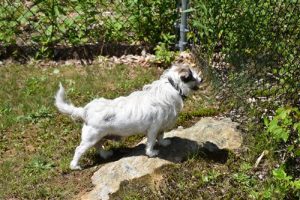 A little dog that needs to know for certain that his forever home will stick; Louie will be a wonderful companion to anyone giving him the time and willing to take nice walks so he can manage his weight once he has lost those extra pounds. We hope someone will see the beauty of this little dog and look beyond his tubby body and give him the benefit of the doubt that he is a prince waiting to happen.