Knute is a male brown and white, broken coat, five-year-old papered Jack Russell/Shi-Tzu cross that came with his mom from England. Currently on an extreme diet, his ideal weight should be about 17 pounds. Due to personal circumstances beyond the owners control, Knute needed to find a new forever family so that he could once again lead an active and loving life; we agreed to ensure his rehoming.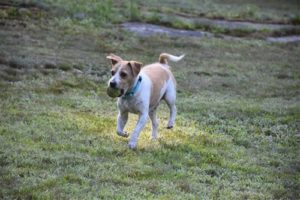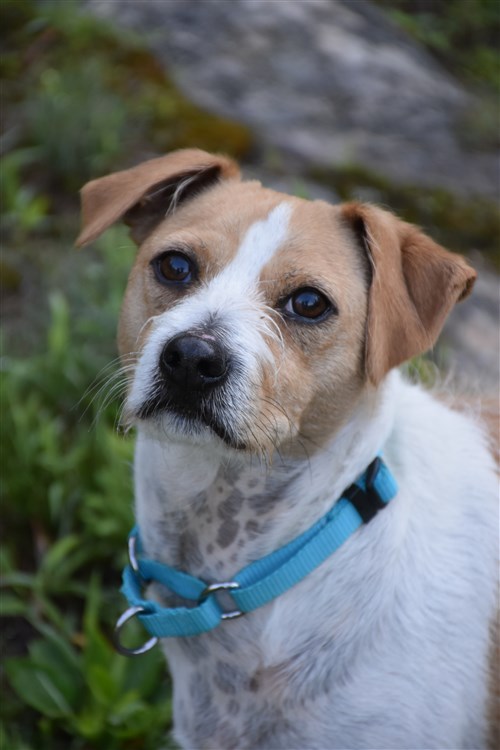 Housetrained, he is not too bad in a crate but does not go in willingly so we see no reason for him to have to be in one. At this time, he does not seem to have much interest in toys, but he will run after the ball and once he gets going, will retrieve for some play.  He enjoys car rides, and is an absolute delight on leash and has a wonderful gentle rhythm while walking during his long strolls in the woods.  Extended walks are much enjoyed and he keeps a nice moving pace with his human.
Knute is a very dear dog, quite calm, gives soft kisses and takes treats gently with his lips. A very curious jack mix, he certainly enjoys watching what's going on around him and seems to have the best qualities of both breeds. Per his previous owner he lived with various dogs over the last few years and got along fine with them (except for one roommate's aggressive large dog); he also did well with the foster's dogs. He is not a big fan of being picked up, but he manages to jump up on anything he needs to, so there is no need to fuss.
Knute will offer perfect companionship for an active person willing to indulge him with long walks, snuggle time and being a loved family member once again.
Apply to Adopt Knute (pronounced newt)