Kloee is a five-year-old smooth coat tricolor Jack Russell female who currently weighs a chunky 16 pounds. Ideally, she should weigh 13 or 14 pounds.  This sweet jack came to us with her three puppies who were born on September 23 and she certainly still has to lose weight from her pregnancy, and the extra food that she consumed!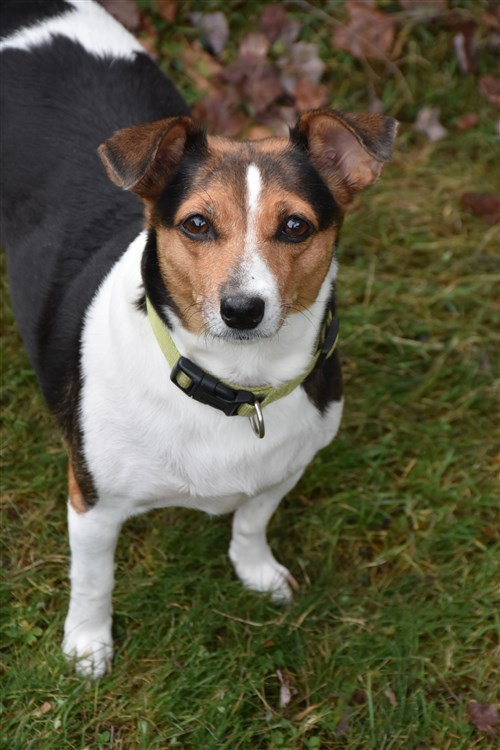 All of her children were adopted, so now Kloee is awaiting her special day. This little Jack was an excellent mama, but came from a home where she was not living the best of lives; treated very poorly in her first home.  No kindness, no care.  She can be quite fearful of new people, but now that the puppies are gone, we hope she will become more relaxed. Once she knows and trusts you she is the most kind, gentle and loving little dog.  We have come to adore her sweetness, but she remains extremely fearful of new people, we do not think this will change.
We are enjoying her gentle temperament immensely. She is a typical Jack Russell and an avid hunter. No mouse or critter escapes her. She travels beautifully in the car, and enjoys going for long walks, strolling beautifully on leash. She does not like the crate but will tolerate it if needed while traveling in the car. A fenced yard is an absolute must.  Kloee is not fond of other dogs, we think it best she remain an only child. She tolerates being around them as long as they do not approach or bother her.
Kloee is extremely well housetrained, and does enjoy the company of her human when she trusts them and is a great snuggler and face licker. She is very quiet and only tends to bark when there is lots of commotion. Ideal for Kloee would be a calm and quiet household with little commotion or frequent visitors.  When Kloee feels you are her friend, and she trusts you, there is nothing that this terrier will not do for you; she is a star waiting to be born.  She has so much love to give if someone would give her the caring home she has grown to enjoy as JG dad's office dog.  When given the chance she is the most amazing companion and trusted friend.