Kia is an 18-month-old tricolor, smooth coat female, weighing a very muscular 20 pounds. This jack came to us because she had excessive energy and was not the right fit for her family. She was loved, but unfortunately, a Jack was the wrong choice of breed for her family. They turned to us and we welcomed her into the fold.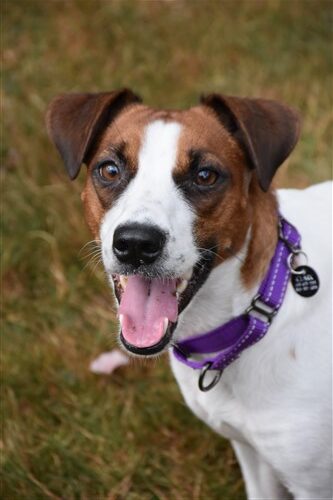 Extremely high energy, very enthusiastic, and an extreme alpha female. She walks beautifully on leash, and can go for miles with a nice pace and enjoys everything around her. Kia is also a ball fanatic; she can play for hours and returns it to you to be thrown repeatedly. She thoroughly enjoys squeaky toys and things that she can shake and kill, preferably de-stuffing as soon as possible.
Kia is not 100% housetrained, but because she is young, learning that will come quickly, she just needs a good schedule to get her back on track. Kia is crate trained. A little shy when one moves too quickly with her, she has gotten so much better now that she has been here at Jacks Galore where we are focusing on having her become more comfortable with things she has never learned.
This young active Jack will definitely need a fully fenced yard; her desire to run off her energy requires a lot of physical activity.
Although she did live with a Chihuahua, her first family mentioned she was quite dominant and after we introduced her to other dogs, we feel it would be very wise to keep her as an only dog. She is very focused on other dogs' movements and it can escalate when there are things she deems to be hers, such as the ball. It would be best to allow her to be the Queen of her domain.
She rides very well in the car, but is very excitable, she did great at the vet if not a little squirmy, and definitely loves her people wholeheartedly.
A super smart Jack Russell that would definitely benefit from dog sports, and extremely long walks with her humans. Snuggling she enjoys, like all jacks, as long as she can be close to her people and get lots of love back.