Kenny is a 4-year-old tri color, broken coated male JRT who weighs in at a lovely 14 pounds.  Kenny came to us from a rescue that we work very closely with in Louisiana. We snapped this little dog up because of his delightful demeanor and love of playing with other dogs.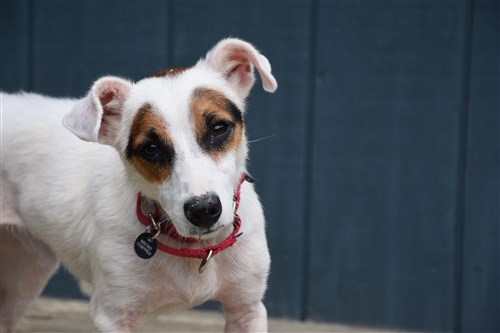 Kenny when found had a skin condition we are now assuming was because he was riddled with fleas. After a nice medicated bath at the previous shelter, his hair has now almost fully grown back.  With a continued healthy diet and time he will be the little fuzz ball he once was.
This JR appears to be housebroken, very loving and sweet with his humans, although we were told he prefers women to men.  Here at JG we have not seen that behavior from him at all. No man he has met has ever caused any negative reaction, he is just happy to see people. He travels really well in the car; not that fond of the crate so he becomes extremely vocal and loves to bark to let you know he wants to see you. He is very attached to his humans, will not stray far, and loves attention.
Kenny is very athletic, walks beautifully on leash and enjoys chasing the ball. Kenny appears to get along with other dogs and lived with three other dogs in the foster home before he came to us from Louisiana. He likes to play rough-and-tumble with his fellow dog pals, grabbing their legs giving incentive for the chase.
A delightful young Jack Russell longing for a family who will spend a lot of time with him.  Apply to Adopt Kenny