ADOPTION PENDING
Jappie and Scout are a 7 year old brother and sister, smooth coat, brown and white JRTs. Scout, the female, is slightly larger at 15 pounds, while Jappie, a shorty, comes in at 13 pounds.
These two JRT's were bought as puppies by "Doc", our wonderful KY rescue vet; who sadly suddenly and unexpectedly passed just a short time ago.  When "Doc" died, we were asked by his closest friend and confidant to please help her rehome his Jack Russells, of which there were seven.
His dogs were his life; their days spent at the vet clinic rambling around with the other dogs and visiting patients, and at night went home with him to their fully fenced yard and slept on one of the comfortable dog beds provided by Doc.
These two jacks were part of the band of rescue dogs that Doc saved and took care of; devoting his entire career to helping rescues and homeless dogs in addition to his many loyal patients. Very bonded, Jappie and Scout will only be re-homed together, and will need a fully fenced yard as they are both hunters extreme and would run for miles chasing anything that moves.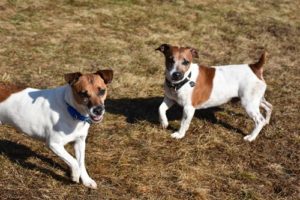 The pair spend hours playing, chasing each other ferociously, with Scout displaying her bossiness. They eat out of the same bowl, they sleep cuddled up closely, and are housetrained. They've never had much leash walking, but are both extremely smart so could probably learn if it means getting long walks. Highly energetic, more like puppies than teenagers, they have the gift of the gab and enjoy being vocal while running around the agility field.
They ride beautifully in the car, and while they do well in a crate, would prefer not to be confined. Scout and Jappie are both very sweet and gentle dogs, but do need time to get to know their humans. Jappie is much shyer than Scout who definitely is the most confident of the pair.
Two very beautiful dogs that deserve to know that they'll be loved once again.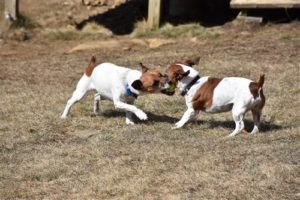 Apply to Adopt Scout and Jappie