Janey is a three-year-old brown and white female shorty, smooth coat Jack Russell who weighs in at an overweight 18 pounds. When she's her trim self she should weigh no more than a muscular 14. It won't take long for her to slim down, she's quite the walker!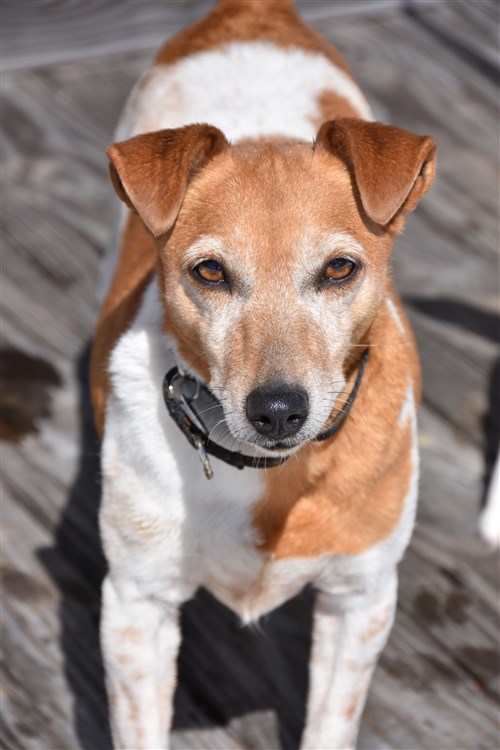 Janey came to us from a fellow rescuer who took her from a shelter before her time was up, because she was a stray she had only a few days left. We understand why she must've been found wandering; because when she goes out for her walk the adrenaline kicks in, and the nose runs on overdrive. Janey is all about the hunt.  She will certainly lose her weight quickly at the speed she walks, but she will not be the only one shedding pounds; it's quite the challenge to keep up with her! Despite her having a rapid pace as she walks, she is lovely on a leash and will help you keep your stride moving forward. It appears that Janey is not comfortable when cars pas us walking on the back roads.
Janey gets along with most male dogs (females need not apply) but she is definitely a bossy pants and will let her partner know. She loves to chase and be chased, and loves to go after the ball, but is not a retriever and lets her fellow jacks do the work for her. Janey just wants to run after them when they have the ball in their mouth; she has tons of energy and loves to use it!
She's very sweet and loving with her humans, she appears to be quite clean and does fine in a crate; although she prefers not to be in one. She rides well in the car and was great at the vet except for being squirmy for her blood work.
A little girl who will bring much joy to someone who enjoys the outdoors and can offer her some great long walks where she can use her nose to explore. Janey would probably be the most amazing barn hunter, no rat would stand a chance to elude her.
Apply to Adopt Janey