Jacquie is a one-year-old brown and white female smooth coat Jack Russell who weighs approximately 15 pounds.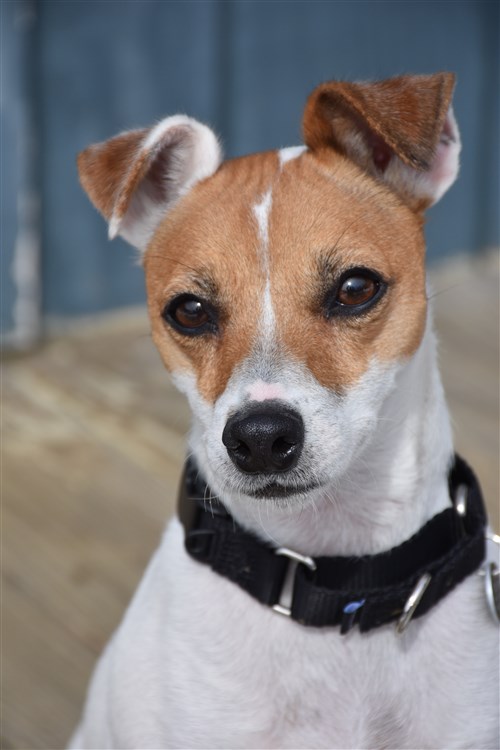 This delightful little Jack came to us from an individual who had taken her in when a gentleman in a training class was unable to keep her. She was originally adopted from a Connecticut shelter as a service dog, but proved to be too much for the elderly man.
This dog is extremely fearful with new people, needing to make sure that you are there to be kind. After much barking she settles down; she is very treat motivated. Here is a dog that needs to build her confidence. Jacquie is extremely smart, very much wants to learn and please, and would do well with proper training classes where there is positive reinforcement. It took her only a few seconds to learn the dog door, and she's willing to work hard for rewards.
She walks well on the leash, but is all go go go, and definitely very prey driven. Not many noises that escape her and she's always looking out for something to chase or follow. She rides well in the car; she has an inordinate amount of typical puppy energy, and loves her 3-mile morning walks. She loves to play ball in typical terrier fashion and enjoys the stuffed toys she has in her "room". The good news is she does not destroy anything that she has close to her. She is very well housetrained, but is not a fan of the crate.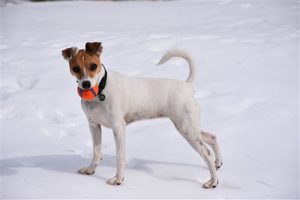 Even though she temporarily lived with another dog at her foster's, they needed to be separated because of the scuffles that ensued. We are not sure that she will be good with other dogs, because she has never been properly socialized. Her immediate reaction is stay away!!!
Once she knows you, trusts you, she is extremely loving and gentle and is a fabulous snuggler. With a lot of patience and training she will be a most wonderful companion, a delightful Jack Russell willing to give her all to her new humans.