ADOPTION PENDING
Jackabee is an 18 month old smooth coated male with beautiful fawn and white coloring and unusual markings to his legs; he weighs 16 pounds. A very gentle soul, who does not know anything of the world quite yet, he's extremely willing to learn, desperate to please, and constantly looking for recognition. Everything he encounters on his walks is a surprise and quite new.
This young dog appears to be clean, but does urinate submissively because of his uncertainty at doing right. Once he has his confidence and knows that he is safe, that will quickly dissipate and will no longer be an issue. If there is one thing about this dog, he so very much wants to learn and is very smart. This jack is an amazing hugger, leans closely into your neck and longs for the closeness that you give him. Very gentle, very sweet; he just really wants to be adored and nothing more. Jackabee travels beautifully in the car, appears to be well-adjusted in a crate, and even though he obviously never had been taught to walk on a leash, he's adjusting quite well on the harness after a short time of training and is relishing figuring out that he's a Jack Russell who likes to hunt chipmunks.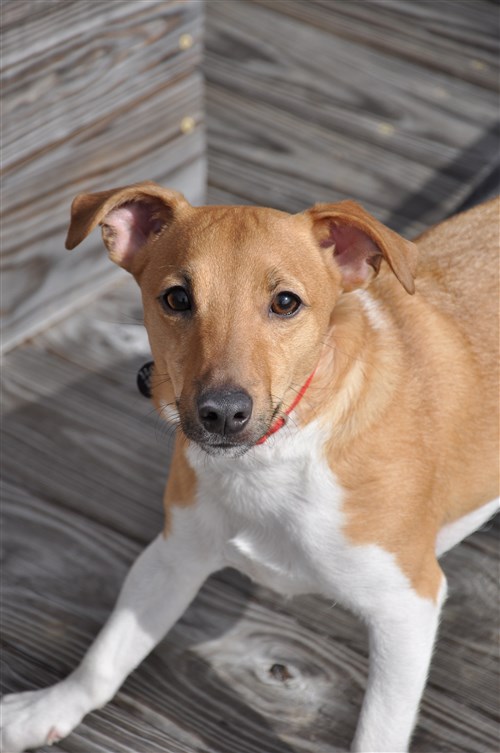 Jackabee came to us when his elderly owner's nurse contacted us requesting help. A breeder sold two puppies to an elderly woman who is having trouble with her health, and both dogs were not getting what they needed. Never trained, never allowed to be terriers, they soon started becoming frustrated with each other, were being kept crated for long periods of time and not getting the exercise and mental stimulation this breed needs. The end result was that at least one had to go. If the owner is no longer able to keep the second male, we have already said we would step in and gladly rehome him as well. They were being loved, but this was probably the wrong breed for this particular circumstance.
Jackabee loves to chase the ball, and run around the agility field at breakneck speed. Retrieving is but another matter, relishing his joy for the chase we are sure that returning it will come someday. He's enjoying his very long walks, and will certainly be a wonderful hiking companion and is constantly aware of his human, and looking to you for guidance. Jackabee is great with other dogs, he has been around quite a few now and wants to engage in play, friendly to all who he meets on leash, and seems genuinely interested in having a dog pal.  This young male takes correction well from other dogs in the group.
Jackabee does need to lose a few pounds, but with all the exercise he is now getting and proper diet he will certainly shed that excess quickly. This young man is a little prize of a jack, he will certainly be loyal beyond belief to his new forever parent and pay you back more than any dog probably could. Jackabee just wants to love you, he just wants to shower you with affection; all he asks in return is to be safe, and allowed to be a dog.