Jack is a 15-year-old black and white smooth coat male jack Russell terrier who weighs an excessive 28 pounds. He came in at 31 so he has already slimmed down within just a week and a half. Jack's human is quite elderly and no longer able to take care of him because she uses a walker and could not let him out without them getting tangled. His mom was very upset but knew she could no longer take care of him so we welcomed him into rescue.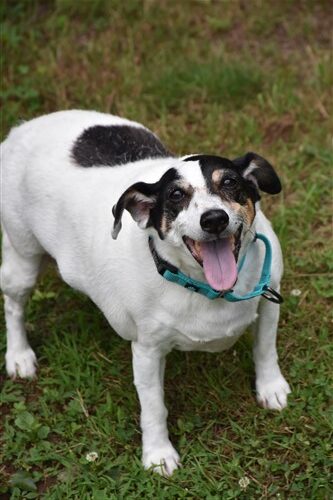 This Jack Russell is a very very dear boy, extremely loving, and well house trained, there is no doubt that he has always been loved.
Jack seems to get along with other calm and friendly dogs, and certainly is beginning to enjoy his walks. We are not able to go very far, the end of the driveway and back for a total of 1800 feet is about all his little heart can take in this very hot and humid weather. However, doing that several times a day is allowing him to get the exercise he so desperately needs; he certainly enjoys it!
He misses his person so much, and lets it be known that he is not happy in the kennels but would rather be snuggled on the sofa again. Jack is very good with the vet, is extremely healthy except for lots of senior lumps and bumps and he is getting a dental first week in August. Once he loses that weight, he will be as fit as ever and ready to take on the world.
He rides well in the car, and does fine in a crate. A soft and warm spot once again for this delightful senior to know the love he misses, would be ideal. Jack deserves more out of his remaining years than being stuck in a kennel!!