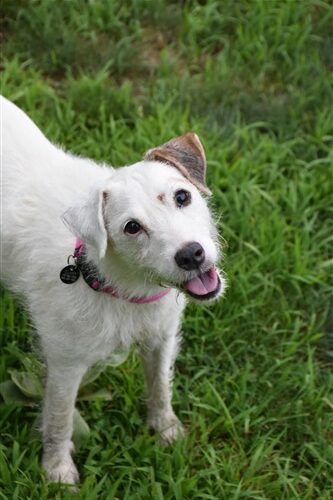 ADOPTION PENDING!!!!
Henrietta is an 11 ½ year old broken coat female, all white Jack with one brown ear. A beautifully sturdy athletic girl who should weigh about 17 pounds, but has become a little pudgy with lack of exercise.
"Henri" was returned to Jacks Galore after seven years because of a family crisis. We welcomed her back into the fold and know that this delightful young senior will get a new home again very soon.
This JRT is very energetic, and currently doing a 3 ½ mile walk every morning with an enthusiastic pace on leash. She is very affectionate, and loves her humans but does not like other dogs. An extremely well behaved Jack, beautifully housetrained and very loyal to the end. She rides very well in the car, and enjoys taking trips.
Henrietta was indeed very sad when she was left here with us once again. However, she has perked up, and is enjoying her busy days and looking forward to having a new forever family. Looking for people who will continue to keep her active into old age.