ADOPTION PENDING
Hans is a four-year-old male tricolor smooth coat, a small Jack Russell weighing in at 14 pounds, with the most adorable ears ready for hearing critters. Hans came to us with Tootsie, from a rescuer who asked us to bring them into JG.
Another exuberant energetic ball fanatic who can fetch and retrieve endlessly, he has a desire to chase and run with a playmate. Hans gets along with other dogs, but is pretty bossy when it comes to playing, and always seems to want to have a toy, ball or chew in his mouth. This little boy also appears to be housetrained, rides well in the car and is crate trained.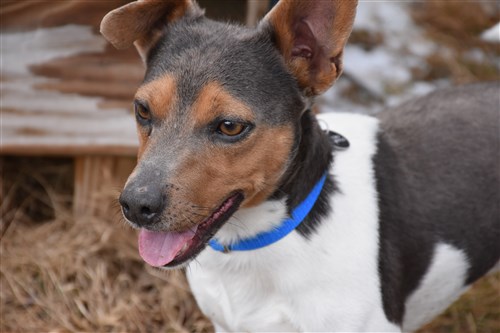 Hans also does not seem to know what leash walking entails; zigzagging around trees, rocks, and in and out of ditches to see what's going on with the rest of the world. An extremely active, busybody little jack, he does get very squirmy and mouthy and thus will need an experienced Jack Russell owner to work with his energy. He is very loving, affectionate, and can entertain himself as long as he has something to chew on.
A little dog who with his determined walk and a twinkle in his eye, will probably get his way more often than not, and endear himself to most anyone who meets him.