Gracie is a 12-year-old female, 13-pound tricolor, Jack Russell cross. This little girl came to us from the MSPCA on Cape Cod because she was having a hard time dealing with shelter life. They asked us if we would take her in and we willingly obliged.
Gracie has been in a home since she was one year old and when the owner died several years ago and the other family members "moved on"; Gracie was taken to the shelter because she was no longer able to coexist within the new family dynamics. We are thrilled to have her at Jacks Galore as her cheerful personality shines through.
She is enjoying her 2-mile morning power walks and has lots of energy to play and run around on the agility field. Age is definitely not slowing this girl down. Extremely loving, adoring of her adult humans. Gracie is extremely well housebroken, rides lovely in the car but is definitely vocal and lets you know exactly what is on her mind. Her radar ears are able to pick up anything moving around her and she's very observant; definitely a hunter.
Gracie did live with another dog but did take time to adjust to the companionship and we do not see her have any fondness for dogs here at the rescue. Perhaps with the right mellow male dog, she might learn to appreciate the companionship. At this point, we think she would do best as an only dog.
Gracie loves people, and wants to be by your side 24/7. This little Jack Russell mix is very devoted, extremely affectionate, has an enormous amount of energy and will thrive with the companionship of someone who will offer her some attention.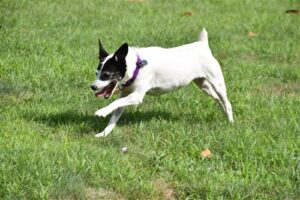 Nothing holding this little girl back from still having many active years ahead of her. Apply to Adopt Gracie