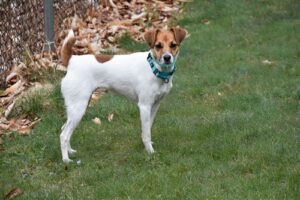 Gracie is a 1 ½-year-old female, smooth coat tricolor Jack Russell Terrier, who weighs a very lean 13 pounds. This beautiful girl came to us because of an unexpected move resulting in the inability to keep her. Well loved, we gladly took her in.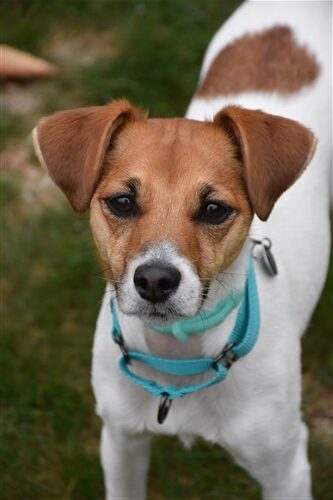 This graceful JRT lacks proper socialization and training from puppy hood so will need some initial work in order to acclimate her to her new surroundings. She is housetrained.
Gracie is extremely intelligent, very willing to learn and highly food motivated. 100% Terrier, she is very very active, high energy, and would possibly do well as a sport dog after some more socialization. Gracie is a ball fanatic, extremely fast, and will return to have the ball thrown over and over.
She gets along with other dogs after proper introductions, but wants to be the fun police and will bark and nip at her roommate when excitement sets in. Gracie loves to play chase with a companion dog. She loves to go for long hikes, and does quite well on the leash, is super quick but also has a keen nose for hunting.
Gracie is very loving, loves belly rubs, giving her people kisses and enjoys just snuggling up after a busy day of activity. Timid when new things are introduced, shy with people in the beginning, but with a lot of praise and rewards, she settles quickly. A trainer worked with her and found her to be a very capable and fast learner.
A very beautiful top-notch Jack Russell Terrier, she will do best with an experienced Terrier home. Gracie will benefit from a fenced yard where she can continue her training and socialization skills.