Gideon is a four-year-old smooth coated white and chestnut colored, shorty male Jack Russell. Gideon weighs a muscular 16 pounds.  An athlete supreme, with an extremely high prey drive, who came to rescue with an unknown past.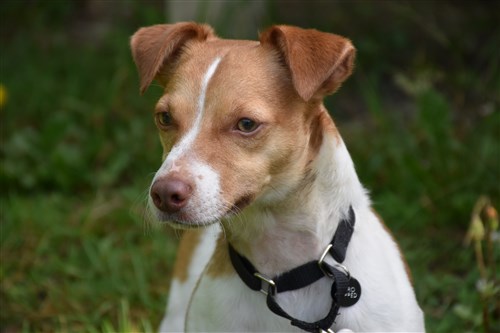 Incredibly robust and sleek, Gideon is the picture of elegant athleticism, and could walk for miles without breaking his stride. Very affectionate with his humans, turning back and leaping high into your arms for kisses as he challenges you to keep up the pace; with a glint in his amber eyes and huge smile. Very well housetrained, crate trained, rides beautifully in the car, but voices his opinion when he's in his crate!
This dog has to have a mission, he has to work, and he would be one superb barn hunter or a hiking companion for long weekend bouts in the woods (leashed of course!!!). Gideon has shown interest in other dogs, but has not had much socialization, but does well with any we have introduced him to. He is extremely active and meets and greets with much enthusiasm, thus needs a confident dog to partner with.
It is obvious to us that Gideon has not had much formal training but is an extremely intelligent little boy who is more than willing to learn anything in order to be with his person. A fun dog, active, enthusiastic, and a beauty to watch work the fence line on the agility field. Only physically active adopters need apply!