ADOPTION PENDING!!!!
Galaxy and Poncho; a very bonded pair that must be adopted together. Galaxy is an 8-year-old male, brown and white smooth coat Jack Russell and his pal Poncho a 7 ½-year-old male tricolor smooth coat Jack Russell cross. Galaxy, a JRT is the petite of the pair weighing in at 16 pounds and Poncho, a much larger mix, should weigh about 35 pounds. Currently Poncho is on a major diet!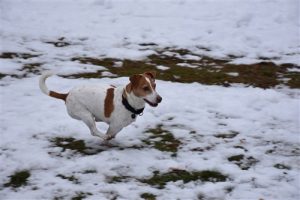 These two dogs, very much loved, were given up because of a very tragic personal circumstance. Poncho and Galaxy came with their mom from South Africa when she moved to the United States to study. Poncho came from the local shelter in Cape Town, South Africa and Galaxy bought from a breeder in the same town. Very active, loving and affectionate dogs, the pair are very close to each other and have a blast when they are playing ball. Their game of choice is chasing the ball and bringing it back for umpteen repeated throws; they just absolutely love chasing the ball.
Both dogs are extremely well housetrained, were crate trained as puppies, walk beautifully on leash and they are all around extremely well behaved. They both ride well in the car.  Poncho, the more exuberant and more outwardly affectionate, will confidently give you lots of kisses and loves to snuggle with much enthusiasm. Galaxy is a little more reserved to start, a little more reserved about things that are new around him, but once he warms up and feels he can trust, he is an absolute love bug giving tail wags and offering you his ball to play with. They do fine with other dogs when properly introduced, their good around all people as well as with children although Poncho loves to jump on people so knocking little children over could be a problem.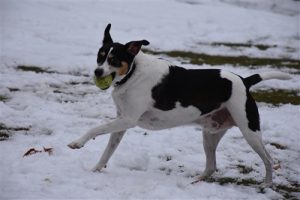 A dynamic duo who will make a fabulous addition to any family and shower their new humans with lots of love and kisses.