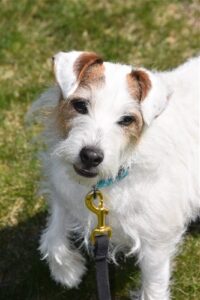 ADOPTION PENDING!!!!
Frankie is a 4-year-old female, tricolor rough coat Jack Russell Terrier with an undocked tail, who weighs 16 pounds. Frankie came to us when her owner could no longer manage the disagreements between her two female Terriers. This Jack Russell was absolutely adored by her person, and it was not an easy decision for her to make.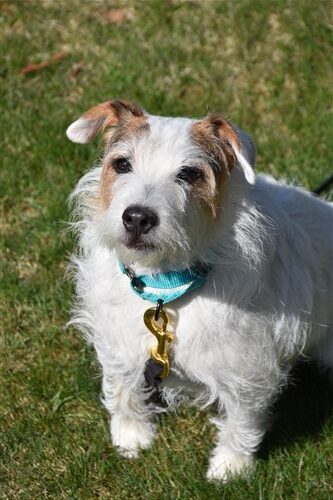 Frankie is one of the New Jersey 188 breeder hoarding Jack Russells. Frankie was sent to a rescue once out of her prison at the age of 2, and adopted to a lovely savvy JRT home. The all-breed rescue unfortunately placed two female JRTs together, and with this breed, two females rarely manage to live peaceably together. After 2 years, the girls began to fight. Not uncommon, we immediately agreed to bring her in.
Frankie  was one of the JRTs that came from the New Jersey hoarding situation. Jacks Galore took in 14 from this group of 188 jacks and know what a difficult life they had. She is shy at first, fearful of some things strange to her, but always kind and gentle, and very very sweet.  Despite her past, a very loving and willing Jack Russell.
Frankie is housetrained and is fine around other dogs, but does needs to be an only dog in the home. This JRT did very well at the vet, was just very timid, but is in excellent health and rides quietly in the car.
In her home, she exhibited exuberance, playfulness and enjoyed cuddles. She is a very good leash walker and enjoys our escapades in the woods. Startled of loud noises and sudden movements, she will do best in a home that is fairly quiet, where she is walked in a rural environment and absolutely positively needs a fenced yard.
All of these dogs have successfully integrated themselves into family life, some of have taken a little longer than others to rid themselves of their shyness. When allowed to settle in their time, with a lot of patience and understanding, she will absolutely blossom once again and be a wonderful family member and companion.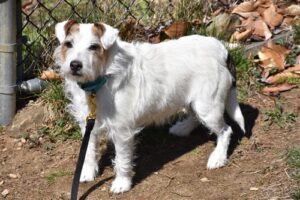 There is a wonderful group of Jack Russell Terrier people who have adopted the dogs from this horrendous hoarding situation, and they will all say that the efforts to rehabilitate these beautiful Terriers has been worth it. We are asking someone to reach out and give this girl what she has deserved all along.
Love, a family to take care of her, and people willing to give back her life. Apply to Adopt Frankie